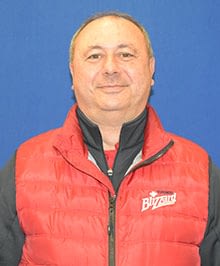 Who is Giuseppe (Joe) Parolini
TORONTO BLIZZARD HEAD COACH
Toronto Blizzard – Director 
Cell: (416) 805-1294
Tel: (905) 893-0696
E-mail: [email protected]
Bio: Joe Parolini has been running the # 1 rated Scholarship Program in Canada since leaving the Canadian Women's Sr. World Cup & u20 National Women's Team. Joe Parolini started the Woodbridge SC Girls Program under President Marcella Reda. After leaving the Toronto Blizzard Scholarship Program was born & continues to be #1, in placing players in University with Scholarships. Empowering females to get an education and furthering their future using soccer (football) as their vessel. "There is a school for everyone". Our deep connections helps place all players. Each players job is to maintain a minimum 3.0, a good SAT score, & pass fitness tests.
U/16 National Youth Team (Staff) & Training Centre1980-1984
Trainer at National East Training Centre 1982-1984 (Olympic Player Pool)
Trainer 1979-1984 U/16, U/18, U/20 MWT Youth Teams
U/20 National Youth Team (Staff) & Training Centre 1983-1984
Trainer of 1986 Canadian Men's World Cup Team (Mexico)
Hamilton Steelers (CSL – GM: 1986-1987) Canadian Soccer League
Toronto Blizzard General Manager 1987-1993
Toronto Blizzard Owner since 2000
2000-2003 Woodbridge SC initiated and developed female players for National and European Teams (Inclusive of Champions League)
2004 Started Scholarship program for Females- Woodbridge SC
Inducted to the Soccer Hall of Fame 2009 (Team of Distinction)
Women's Gold Medal for Canada at CONCACAF with Canadian Sr. Women's National Team- Mexico , 2010
Staff Member with Canadian Women's National Team 2008-2011 (Carolina Morace)
Co-Team Manager for 2011 Canadian Women's World Cup Team (Germany)
Manager Canadian Women's PAN AM Team
Toronto Blizzard 2014 to present remains the only Sports Authority in Canada offering 94% of their female players Full Ride Scholarships to NCAA D1 Universities across North America
Players placed to NCAA D1 & D2, NAIA and NJCAA
Education
1977-1982 B. Sc. (Science, Physical Education & Psychology)
1984 Canadian Soccer Association: C-License
1982-1985 M.A., Sports Psychology (York University)*
* Completed courses but not Thesis
TORONTO BLIZZARD GENERAL MANAGER
Cell: (416) 805-1294
Tel: (905) 893-0696
E-mail: [email protected]
Bio: A passionate and committed soccer player, coach and administrator with an in depth knowledge of the game. Cesare's leadership, management skills, and vision will allow him to develop and maintain Toronto Blizzard as a dominant Organization.
Who is Emanuele Ameltonis
UEFA B LICENSE - GK COACH
Bio: I played Professionally in Italy, mostly in Serie C (Lega Pro) from 2004 to 2012, playing over 150 official games and having the pleasure to sign a contract in 2009 with the A.C. Siena in the Italian Serie A. In 2012 I moved to Canada where I won the Canadian Soccer League…
Who is Dr. Robert Gringmuth
http://www.sportscentres.ca/
E-mail: [email protected]
Bio: Dr. Robert Gringmuth has treated high performance athletes over the past 23 years, providing expert diagnostic assessment, treatment and conditioning programs. He has worked with players of the Toronto Maple Leafs and was designated as the official sports chiropractor for the NHL visiting teams to Toronto.
Nikki Matarazzo is an athlete mindset development coach, strength and conditioning coach and athlete. She started her athletic career in soccer, playing for Joe Parolini (now Toronto Blizzard) at Woodbridge Soccer Club, Queen's University and professional in Italy and England for a total of 5 years. While she pursued a professional career in soccer, she earned a Bachelor of Arts degree in Psychology and Sociology, having a clear understanding that she wanted to work with people. Following her soccer career, Nikki became a strength and conditioning coach which allowed her to apply both education and experience to help change people's lives through fitness. Soon after she became a strength and conditioning coach, she realized that there was something missing in the development of not only athletes, but all people – that something was mindset. As a mindset development coach, she created Think Out Loud Co. – a platform to help all people develop the mindset that they need to take their life where they want it to go. She is passionate about helping people reach their goals, overcome their internal obstacles, and improve their quality of life – in the gym, at the dinner table, in relationships, at work – in any area of life. Her passion for people drives her to continue to invest in her own development, to ensure that she can continue to help others'.
Soccer Career
started playing for Joe in grade 9 at WSC
played for Joe until grade 12
went to Queens University and played for the Queens University soccer team in my first year of school
during my first year of university, Joe provided me with two opportunities to go to Italy to showcase: March 2009 (Rome), June 2009 (Frosinone?)
moved to Sardinia, Italy to play Seria B with Villacidro Villgomme in Septemeber 2009 – August 2010
 Sept. 2010 – Aug. 2012: played for Villacidro (same team, we moved up) in Seria A2 (3 years total)
Sept. 2012 – May 2013: played for Torres Calcio Femminille, Seria A
won the league
played in Champions league (Romania game will be one for the books)
played with Chelsea Ladies in England: Sept. 2013 – Dec. 2013
"Retired" from professional soccer at 23
Certifications
Bachelor of Arts – Psychology and Sociology
CrossFit L-1
USAW Sport Performance Coach Certification
CPR
Education:
Graduate of Harvard College and Harvard Law School (USA)
Playing Career:
Harvard College (Varsity Letter)
Harvard Law School (Team Captain)
Kerala Police Football Club (India), Guest Player
Dempo Sports Club (India), Registered Player, National Football League (renamed "I-League")
Coaching:
Quartz Academy Professional Football Club (India)
Jeremiah Burke High School (USA), 3 Boston City Championships
Doon School (India)
Mayo College (India), IPSC National Champions
Daly College (India)
Cruz Azul MN (USA)
North Toronto Nitros (Canada)
Administration:
Quartz Academy Professional Football Club (India), Manager
Cruz Azul MN (USA), President